kalimpong
Kalimpong is a charming hill station in Darjeeling, which boasts of lush green environs and mountainous surroundings. In the local Lepcha language, the name Kalimpong translates to 'ridge where we play' while it's Tibetan translation is 'King's Minister's Stockade'. This area is an important education and trade centre owing to its hi-end schools and large-scale ginger cultivation. Horticulture being an important economic activity of the town, it boasts of several flower nurseries and markets. All this, against the paradisiacal backdrop of the Kanchenjunga range, allures travellers from near and far to this quaint little hill station.
Attractions in Kalimpong
Dr. Graham's Homes School

Dr. Graham's Homes School is a premier educational institution, sprawling across an area of 500 acres. Located amid picturesque surroundings, this institute also features a private bakery, dairy and poultry.

Thongsha Gompa

Thongsha Gompa, established around 1692, is counted among one of the oldest Buddhist monasteries in the area. It features a splendid prayer room, which is adorned with frescoes and murals.

Tharpa Choling Monastery

Nestled on the Tirpai Hills, the Tharpa Choling Monastery is said to be one of the first three monasteries that were built in the town. Established by a Buddhist sect, this shrine offers splendid views of the majestic Himalayas.

Mangal Dham

Mangal Dham is a beautiful temple dedicated to Lord Krishna, which is recently built by a Hindu sect. It houses several idols and pictures of Lord Krishna, along with those of some patron saints.

Flower Nurseries

Flower nurseries of Kalimpong export a wide variety of exotic flowers, such as Anthriums, Gladiolas, Gerbera and Orchids. Tourists can visit these nurseries to absorb the pleasant fragrance in the environment.

Catholic Church

Established during the British rule, the Catholic Church of Kalimpong boasts an impressive architecture. Built in western style, this church entices Roman Catholics and influences the cultural activities of the area.

Gouripur House

Gouripur House has served as the residence of Rabindranath Tagore - the famous poet, in early times. He stayed here on his visits to Kalimpong and wrote several of his poems in this house.

Durpin Dara Hill

A quaint hill located in Kalimpong, Durpindara offers spectacular views of the Himalayan mountain range. It also offers splendid views of the surrounding plains and River Teesta, and is the highest accessible point by car in the town. Atop this hill is the Zang Dhok Palri Monastery, which was built by the Dalai Lama in 1976.

Deolo Hill

Deolo Hill, situated in the north-eastern part of the town, is the highest point in Kalimpong. From this vantage point, one can enjoy panoramic views of the town, snow-capped peaks and the picturesque Teesta Valley, along with the two adjoining reservoirs.

Army Golf Club

The Army Golf Club is an 9-hole golf course that was established to keep the officers fit for high altitude soldiering. Perched on a hillside, this club offers fabulous views of the famous Durpin Monastery and the undulating hilly terrain.

Dharmodaya Vihar

Dharmodaya Vihar is a Nepali Buddhist Temple situated on the outskirts of Kalimpong. The temple has a statue of Buddha that was donated by the Burmese Buddhists, and houses a library, which is well-stocked with religious books.

Teesta Valley

An excursion of 14 km from Kalimpong leads to the picturesque Teesta Valley. Travellers visiting this place will have aplenty options for nature walks and river rafting from the base at Chitrey, near the Teesta Bazar.
Our Recommended Hotels in Kalimpong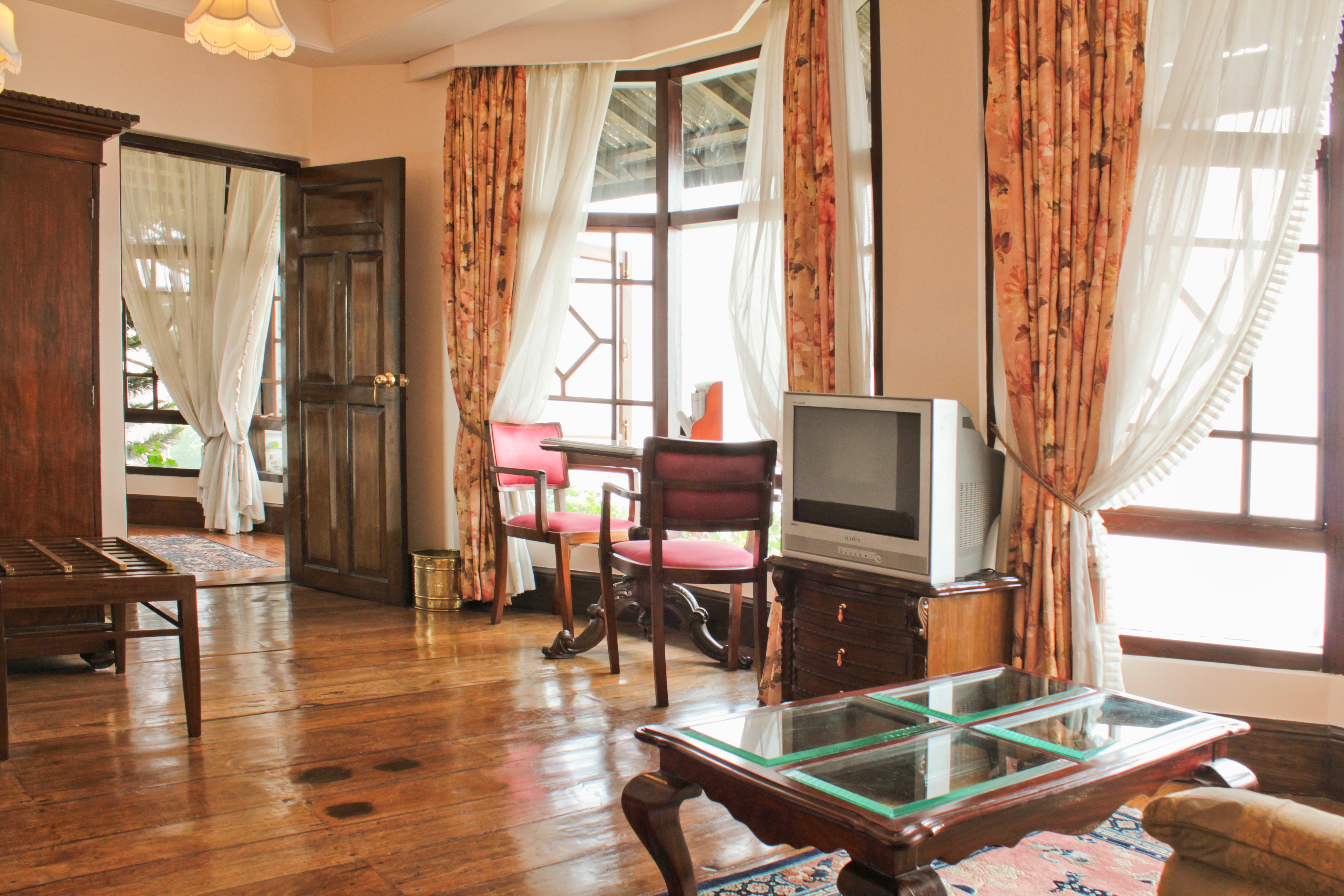 Elign Silver Oaks
Rinking Pong Road, Kalimpong
more...
Elign Silver Oaks
close
Elgin Silver Oaks is a boutique hotel in Kalimpong that offers 25 well-furnished accommodation options, namely Deluxe Single, Deluxe Double and Deluxe Twin Rooms. The hotel has an outdoor gazebo and garden lawn, where guests can enjoy snacks and drinks. It has a tea lounge, well-stocked bar and a dining room with the seating capacity of 75 to 100 people. Elgin Silver Oaks features a spa that offers various massage therapies and beauty treatments. The dining room of the hotel is used as a conference hall to organise conferences, meetings, seminars and workshops. LCD projector with screen, slide projector, cordless microphones and DVD player are few equipment that are provided by the hotel in the hall.
Himalayan Hotel Kalimpong
Upper Cart Road
more...
Himalayan Hotel Kalimpong
close
Built into the family home of David McDonald, a British government official, the Himalayan Hotel in Kalimpong carries with it, a rich heritage. The property, with a newly opened block, features a large lawn, electronic means of payment, barbecue in winters, efficient generator and a television in the common lounge. For added accessibility and ease of travel around Kalimpong, the property provides car-rental and sightseeing tours. Other facilities that make the stay of guests comfortable are laundry and safe deposit boxes. Indian, European, Tibetan and local Sherpa cuisine can be had at the on-site restaurant.
Most of the 19 rooms have their own fireplaces, giving guests the charm associated with being amidst mountains. All accommodative units come with telephones and attached bathrooms, with showers and cold and hot water supply.