orchha
True to its name, meaning hidden, Orchha is a historic jewel concealed as a quaint little town of Madhya Pradesh. What makes this medieval city distinctive is its age-old charm, which reminds of one of the strongest kingdoms of Central India – the Bundela Rajput clan. The architectural ruins, edifices and temples dotted across this 16th century land, found by Rudra Pratap – the Bundela chief, make it a delight for globetrotters.
Attractions in Orchha
Ram Raja Temple

Perhaps the life of Orchha revolves around the Ram Raja Temple, where Lord Rama is worshipped as the king of Ayodhya. Renowned for its high spires, this pink and yellow palatial structure has an excellent marble courtyard.

Jehangir Mahal

A fine example of Bundela architecture, the Jehangir Mahal testifies the bond shared by Mughals and Bundela Rajputs. Built by Raja Bir Singh Deo, this 5-storey palace boasts beautifully adorned interiors and graceful chhatris on the exterior.

Chaturbhuj Temple

Chaturbhuj Temple, built by Raja Madhukar in 1558-73, is a prominent attraction of the city. With its beautiful exteriors adorned with lotus emblems, this spacious and brightly lit temple is a delight for the eyes of travellers.

Lakshmi Narayan Temple

Lakshmi Narayan Temple, as its name suggests, is dedicated to the Goddess of Wealth. This fort-temple, built by Raja Bir Singh Deo in 1622, is adorned with exquisite paintings and frescos that are a mix of Mughal and Bundela styles.

Chhatris

The city of Orchha is dotted with 14 chhatris, or royal tombs of Bundela rulers, which are lined along the Kanchan Ghats of River Betwa. From atop, these cenotaphs provide panoramic views of the river and the adjoining city.
Our Recommended Hotels in Orchha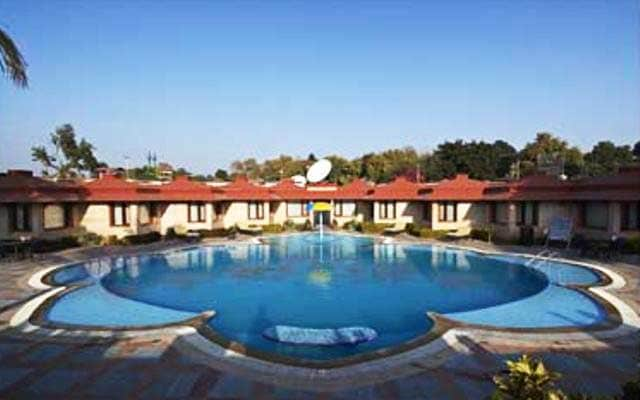 Orchha Resort
Kanchanghat, Distt. Tikamgarh
more...
Orchha Resort
close
Located in Orchha, The Orchha Resort has 32 well-appointed rooms, which are categorised as Standard Rooms, Deluxe Marble Rooms and Deluxe Air-conditioned Swiss Tents. The dining options in this resort include a multi-cuisine restaurant and a well-stocked bar that offer an array of delicacies from Chinese, Indian and Continental cuisine. For recreation, entertainment and leisure, the resort has a fitness centre, tennis court, spa, swimming pool and a souvenir shop. Along with these, there is a yoga centre in the premises, where meditation classes are conducted. To organise private meetings and training sessions, there is a well-equipped boardroom in the resort.